About Us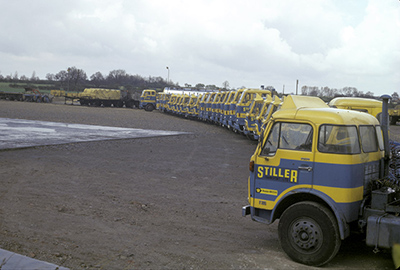 In Brief
Family owned business established in 1954
Cost-effective regional and national distribution
Diverse fleet of collection and delivery vehicles
On –line tracking and tracing  of freight deliveries
High bay racked warehouses for up to 20,000 pallets
On-line stock tracking
Over 200,000 square  feet of food grade warehousing
ISO 9001 (Quality) accredited
ISO 14001 (Environmental) accredited
OHSAS 18001 (Health and Safety Management) accredited
Broad range of commercial and industrial properties to let
---
The Company
Stiller is a family-owned business, established in 1954, with a wealth of experience in the transport, distribution and warehousing sectors.
During our time in the industry, we have worked with some of the best known manufacturers and resellers in the country.
Our comprehensive service offering means that you can put your warehousing and/or distribution service requirements  in the hands of tried, tested and trusted professionals.
Stiller operates over 200,000 square feet of warehousing and despatches from our North East England Distribution Centre up to 15 overnight "trunks" to several nationwide distribution hubs.
Through the utilisation of large volume, double deck trailers and strategically placed distribution hubs we are able to cut down on road-miles and emissions, reduce handling and shorten delivery lead times.
Stiller is also a regional provider of a broad range of commercial and industrial properties.
---
Service
At Stiller Warehousing and Distribution Ltd we believe that our customers are at the heart of our business and we aim to deliver the highest level of service at all times. We have issued this Service Charter to demonstrate our commitment to providing a customer-focused service to any company or persons we deal with.
Our Mission:
To be a warehousing and distribution company which is respected for its customer service, integrity and profitability.
Our commitment to you:
Courteous and helpful treatment.
A clear assessment of business needs and a clear service proposal.
An excellent standard of service at every point of contact, with prompt responses to all requests and enquiries.
A clear outline of proposed services and their timescale for delivery, with a commitment to honour deadlines and appointments and to keep you informed about exceptional circumstances.
Access to accurate information and impartial advice, including signposting to other external services that may be able to help.
A prompt response to any complaint, both openly and fairly. We carry out regular reviews of complaints and take appropriate action where required, welcoming all customer feedback.
Ensuring that all customers are satisfied with the service they receive. We measure satisfaction levels on a regular basis.
A determination to continuously strive to improve
---
History
Gunter Stiller was brought to the North East of England as a prisoner of war, during his service in the German infantry in World War II. Following his capture, Gunter settled in our region and bought a truck in 1954. Stiller was born. In 1986, Gunter retired and his son, Paul, took over as Managing Director, enhancing Stiller's reputation as an established force in the transport and logistics industry.

Now, Paul's son, Matthew, heads the firm, maintaining generations of core cultural values. At the heart of company culture remains Gunter and Paul's high standards of customer service, business excellence and integrity.